Begin with the end in mind
Ahh Carol.
Like many parents this past twelve months I have relied on the fabulous Carol Vorderman and Maths Factor to help bridge the gap of learning between my children and Maths.
Given free during the first lockdown, we used it to make maths fun and truthfully to get a few moments to think while Carol took the lead. When we decided to homeschool this year we put Carol in charge of teaching our six year old Maths.
Challenges
Then we discovered the 30 Day Challenge. There's an avatar, a board, lots of tick marks and three levels with trophies.
It took until a few months ago for my son to take to it. He's really into getting the goblets/trophies that come with meeting the success markers.
He's now on his sixth challenge.
As adults, we're all used to this in one form or another right?
Set a goal.
Limited time frame.
Win a trophy if you succeed.
In essence, begin with the end in mind. A shiny trophy and bragging rights. A simple coaching tactic that lays the foundation to create an achievable goal.
Goblets, Cups and Trophies
He's achieved the Bronze Goblet (Goblet Mom!!! it's not a Trophy!) two months ago. He won the Silver Cup (not Trophy Mommmm!!!! uggghhh) by the skin of his teeth. Now he's going for the Gold Trophy (It's a Trophyyyyyyy! Mom are you just trying to be difficult?)
But here's the rub.
It means he'll have to do sessions on the weekend.
We know that this will be a challenge. He has 5 free days to do nothing before he's demoted to the silver. The school year is almost over. This might be his last chance before end of term. Add to that this past weekend his grandparents came visiting from Kerry after an absence of over 5 months. Of course the maths took a back seat.
That's two days down.
Knowing that, today we created a REAL trophy.
It's decorated with a bunch of stickers, has a friendly face and he put it up right in his eye-line where he sits for breakfast every morning.
Set your sights on the gold
Now, as he begins the day, the end of the challenge is looking right at him.
He made sure to make it friendly and it has it's own crown. It's his inspiration to do maths on the weekends. Will it work?
It has great potential.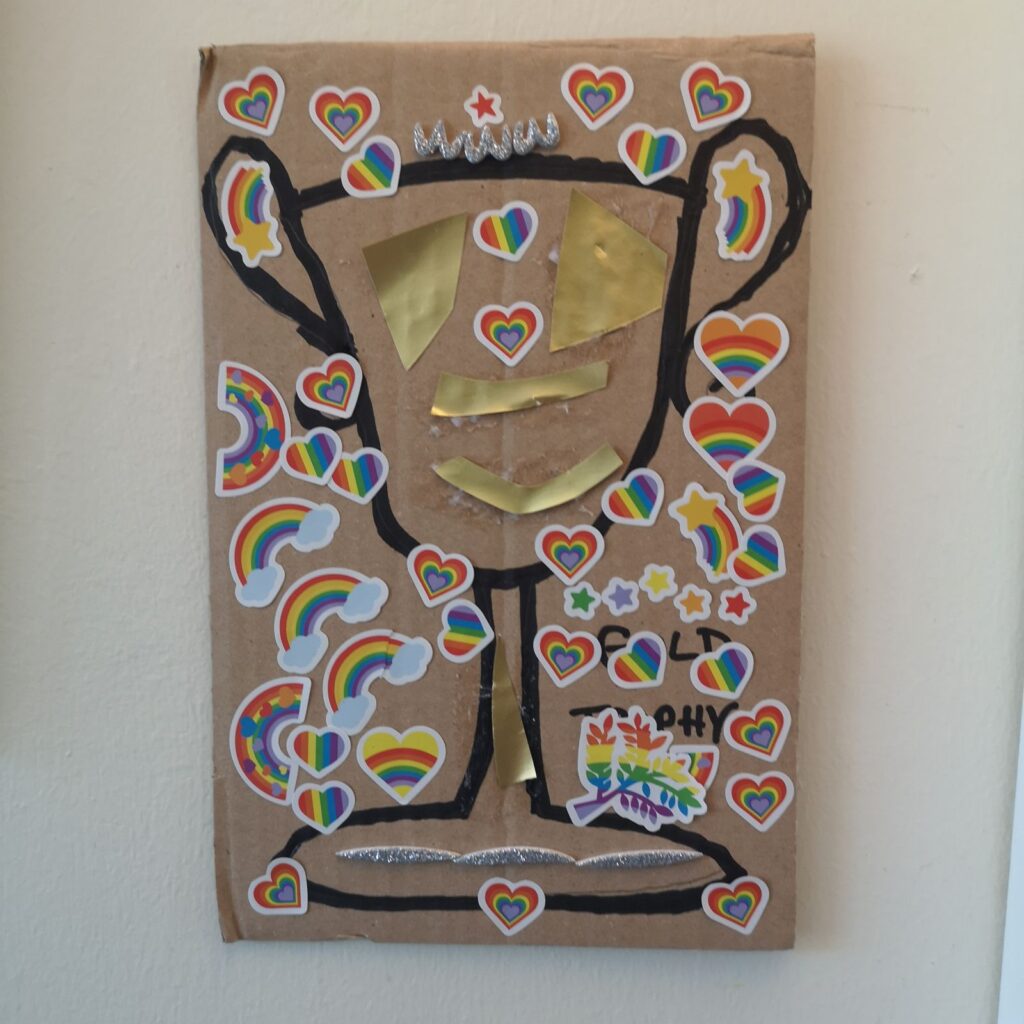 Beginning with the end in mind maps out your possible future. It shows you what will happen if you take consistent steps towards what you want. It inspires the momentum needed to do the work of moving towards your goal.
All it takes is a little future thinking.
Do you like our trophy?
What will it take for you to create a trophy worth working for?